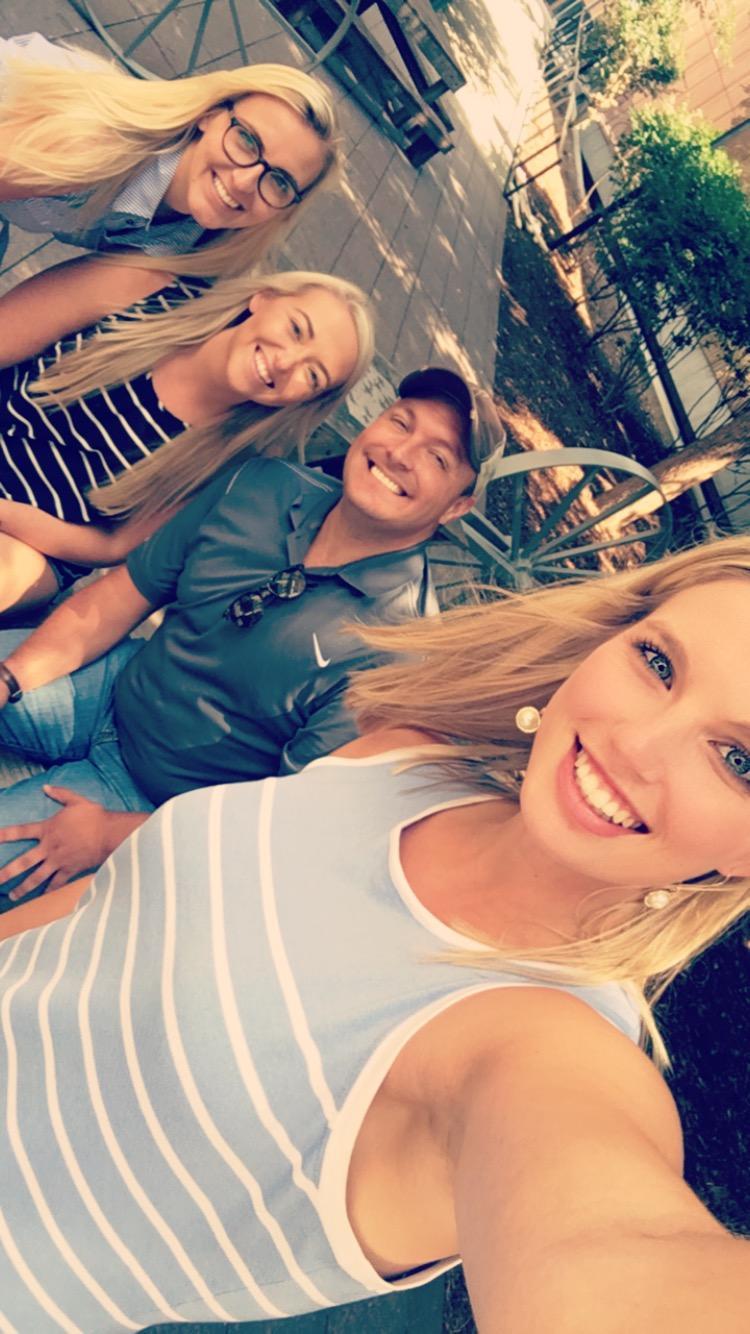 "Today on Ag News Daily."
Hello, my name is Hannah Pagel and this past summer I have had the privilege to work as the Ag News Daily intern. It seems crazy to think that May 9thwas already three months ago, and I was starting my internship with Ag News Daily, and now as I sit down to write this blog, I'm reflecting on all that I have learned during my time in this internship. So let me share with you a few lessons I learned in the role of the Ag News Daily intern.
First thing I learned on the job was how to edit a podcast. Since I fall into the Millennial category, sometimes people assume that we are 'technology wizards'. Now, I myself have my good and bad days with technology, but Mike and Delaney taught me the process, and I picked up on a few tricks and shortcuts throughout the summer. Now I feel like I could edit a podcast in my sleep. When I first started editing a podcast, it took me near an hour to edit but now—if technology cooperates—I can edit a podcast around 30 minutes. It's amazing how much I have grown using this software, but one key lesson I learned using technology is you have to be willing and open minded in the process. It will take time and many failed attempts but eventually it'll come together; if not just power it down and start it back up for a fresh start.
Another skill I learned right away was how to tell a story with your voice alone. Now that might seem a little confusing, but let me explain. I have been in my fair share of musicals, plays, and show choir competitions. I love to act and I love to sing. And when you are acting you are playing a part, you are telling a story. But you are able to use your body and your actions to help portray and communicate that story with your audience. In podcasting you only have one tool to use to convey a message, your voice. Which was a whole new ballpark for myself—I'm one of those people that 'talks with my hands'. But my audience can't see me talk in a podcast—only hear it. I learned right away that you have to put emphasis and emotion in your voice, to tell your story otherwise it can come off very monotone and let's face it, no one wants to listen to a monotone podcast. I don't even know what you would call that, a Moncast? (Good thing I'm not looking at being a comedian for my career path. I don't think I'd last with my jokes).
Now one thing I really appreciated in this internship is how much I have learned by following the news. When I first started, I was amazed at how Mike and Delaney could deliver a news story and throw in past event and connect the dots in this big complex puzzle they call 'world news'. I remember asking Mike one day how he made it sound so natural and how he could remember all these politicians' names and their positions. He told me to give it time, keep reading news articles and eventually as I kept reporting on news stories it would come naturally too.
Now as an agriculture education major, I am a huge supporter of people furthering their learning network in school, but I am also a huge advocate for experience-based learning. Following the news and asking questions—no matter how dumb they sound—is a way to learn and expand ones knowledge on a topic. Don't get me wrong, I learned a lot sitting in a classroom, but I feel as if I learned so much more by actually reading and reporting on topics to an audience. For example, I grew up on a farm (corn, soybeans, feeder calves, and a cow/calf operation), I also took a few agri-marketing and merchandising classes in college, but when it came time do an interview for #MarketMonday, it took me awhile to fully understand what was going on in the market and how farmers made decisions. I also learned a great deal on trade and tariffs and the Farm Bill by reporting on these news stories. I feel as if I have a better idea on what is going on in these areas just by reporting on them. I guess I now understand what they mean when they say if you really want to understand something—teach about it.
And lastly, one of the most important lessons I have learned in this internship is the power of listening. I consider myself to be a planner. Who ever we were interviewing, I made sure to prepare questions and look into their background so I had an understanding of who we were talking to. Well you can prepare all you want—which I still highly recommend—but do not rely solely on the questions you prepared. Listen to who you are interviewing and what they are saying, some of the best podcast interviews you can have with someone is when you listen to them and ask follow up questions based on what they were talking about. It makes it into more of a conversation then just an interview.
I have learned a great deal in this internship; from new technology skills to expanding my knowledge on agriculture news, but what I really think made this a memorable experience is the people I meet along the way. I was able to meet some pretty remarkable people from around the country through the interviews we conducted. I met my first sheep dairy farmer, some very knowledgeable market analysts, some politicians who broke down the Farm Bill and regulatory processes, a company who is using the dairy waste product to make spirits, amazing technology companies from a plant tape to rabbit tractors to a robotic rotary dairy parlor. These are just to name a few. I will never forget the amazing stories we reported on and the diverse group of people we talked to. It just goes to show how endless the opportunities are in the agriculture industry.
The last two people I'd like to thank for making this a great summer are my bosses, Mike and Delaney. They are both great role models to look up to and were supportive coaches in my learning process. They put trust in my skills and pushed me out of my comfort zone. I told them coming in I had 'some' Indesign and Photoshop skills, but they believed in my ability to create them a logo for their new network, Global Ag Network (which you all should go like on Facebook and Twitter). So thank you for believing in my ability and letting me test my skills with your company. We made a great team and I will never forget all the memories we experienced this summer.
It's been a great summer, one full of new experiences and learning opportunities. I can't wait to take what I have learned and apply it in my future career. So my last thanks is to you, Ag News Daily followers. Thank you for allowing me to grow into this position and being an audience to report to. And with that, I'll let you all go. Thanks for tuning in!